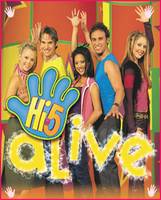 Can we talk about Hi-5 for a second? For anyone unfamiliar with the cultural phenomenon that is Hi-5, allow me to explain. They are big. Bigger than Barney big. Five incredibly peppy Australians dance around and sing catchy songs, wearing lurid spandex tops with little care for their dignity but lots of thought for all the money they're raking in. Because Hi-5 is crack for kids.
I'd seen the show on TV in London and I have to admit, I didn't think much of it. After the Teletubbies and the Tweenies and those mad puff-ball creatures that dance around, I couldn't imagine how real people - with their normal sized eyes and lack of antennae or fur or bright stripes - could captivate young children, even if the people in question
were
'Australian'.
Stick Harri in front of the telly at 8 am (An hour and a half after he usually wakes up) as Hi-5 begins, however, and he turns into a zombie. His face goes slack, he slumps in his high chair. His jaw will automatically open and close so you can shovel as much of his weet-a-bix and milk and fruit puree into his little mouth before the spell wears off. And if there's time, you can sneak onto the couch for a few more minutes shut eye, while he watches entranced.
Other shows don't have the same effect. It's something about the singing and the exuberance and the talking to camera that holds Harri's attention. Holly and I sat on the couch for an hour the other day, speculating about the lives of the Hi-5vers. We thought that Tim (second from left) was dating Kellie (first from left). Nathan is probably the kids favourite, even if he is getting a bit tubby. Charli (last) is my favourite and probably dates someone with dreads. Hol said that Kathleen (middle) had the best body, but Kellie had the best tits.
I can totally understand how parents get roped into the excitement of whatever their offspring are obsessed by and I'm not just saying that because we decided to go to the live Hi-5 show when it comes to Wellington in a few weeks.
Oh who am I kidding. Hi-5, I think I love you.
Ah, it's good to be back.